If you tow a vehicle behind your Motorhome.......YOU NEED
"Protect-a-Tow"
"Protect-a-Tow" is a unique towing protection device that will protect your towed vehicle and Motorhome or tow vehicle and travel trailer from flying debris, stones, mud, etc. Installation is a snap and can be hooked up in less than a minute.

"Protect-a-Tow" will also protect your hitch, wiring harness and safety cables. Very lightweight (less than 5 pounds) and can be easily stored away in the compact storage case provided. The universal design will fit most towing configurations.
We believe that "Protect-a-Tow" is the best towed vehicle protection available.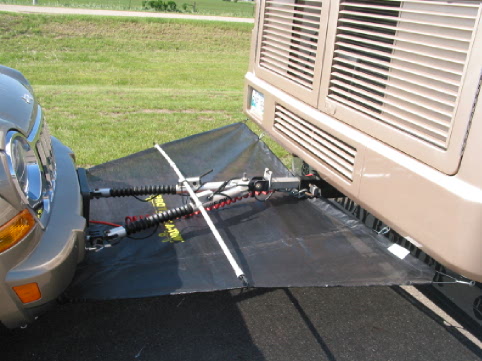 Available to United States, Canadian & Australian Residents.
Order yours today for just $229.95 (U.S. funds)

Click on the order button below to buy online
Group discounts available...call for details.

For more information call us toll free at
1-888-264-5444

Dealer enquiries are welcome
Please call or email.